Today marks the end of the International Secretaries' Week. Phak Hoe and I brought our secretaries, Denise and Suzanne respectively, out for lunch today. I also invited Valerie along as I owed her lunch for being a great ear in recent weeks. ;-)
After a pit-stop at BP, a pseudo-trip to Cheras, an event with the horn at the Suria KLCC carpark entrance, and several encounters with 'interesting' drivers within, we finally managed to get a parking space and arrived at Santini at 1.40 p.m., ten minutes later than scheduled.
I'll let the photos do the talking.
Phak Hoe and Denise.
Valerie and Suzanne.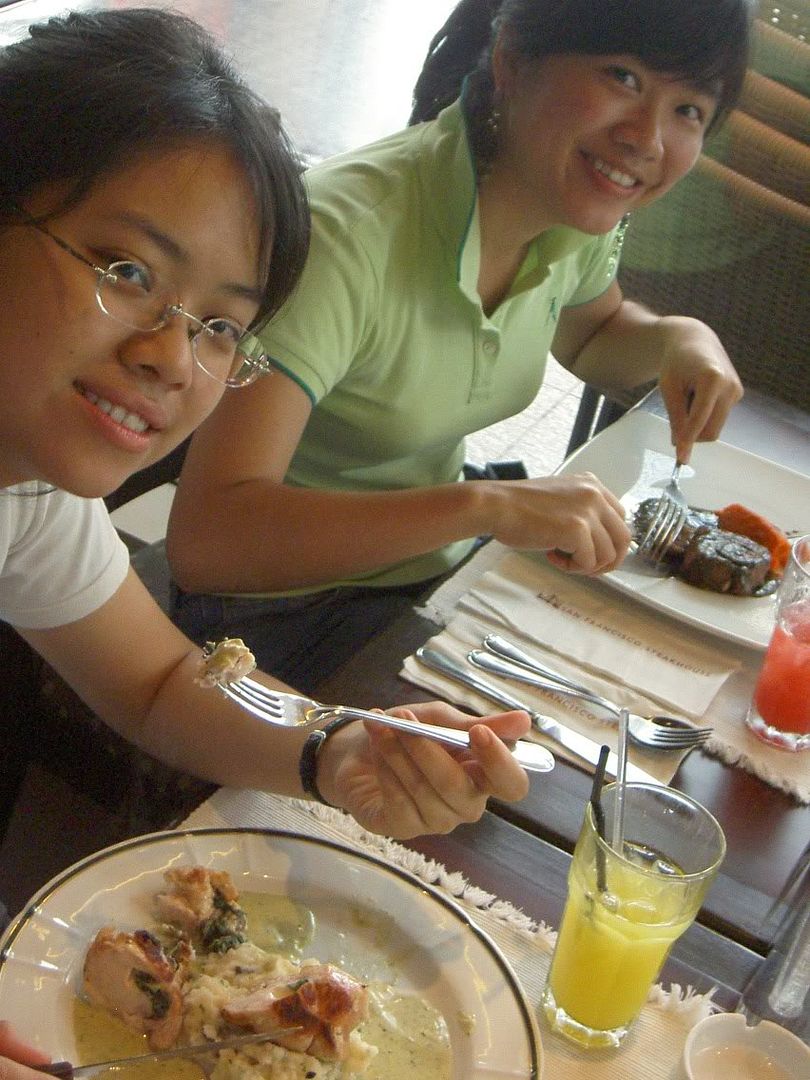 The photographer, taken by Denise.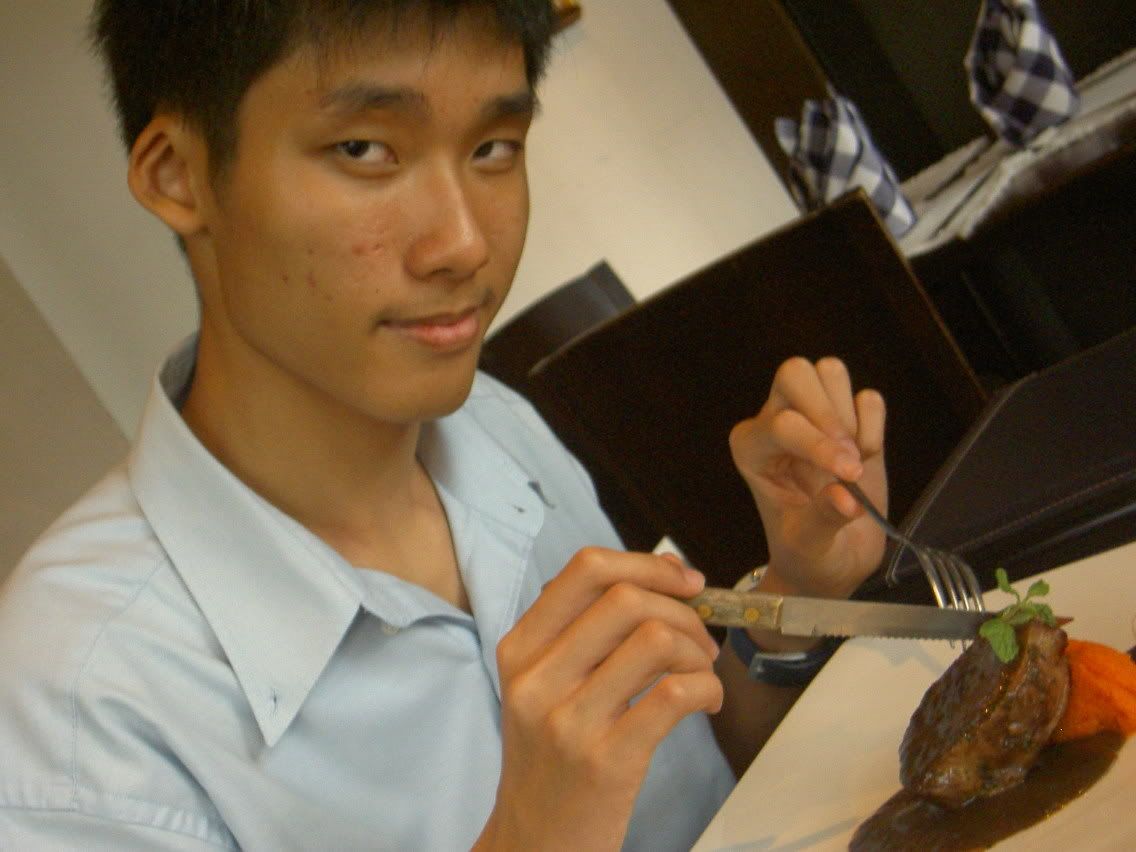 Starter: Insalata Cesare
Classic Caesar salad with poached quail eggs, croutons and Parmesan cheese.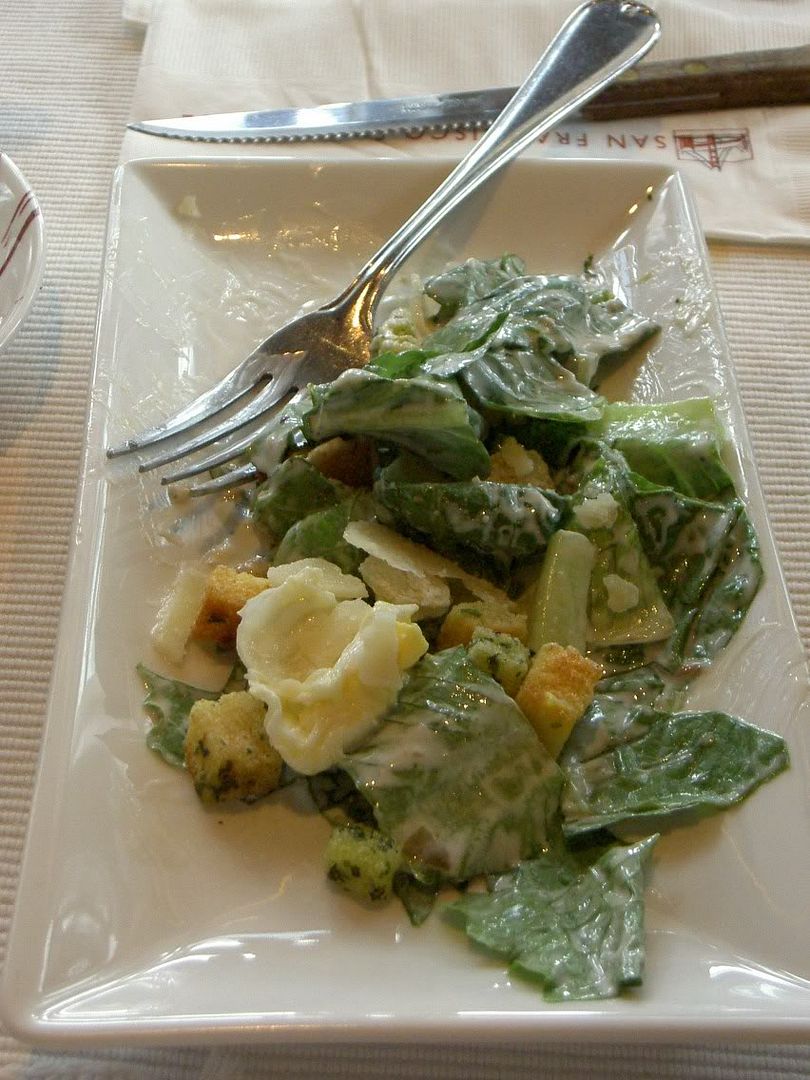 Soup: Pappa alle Patate
Potato leek soup with smoked salmon.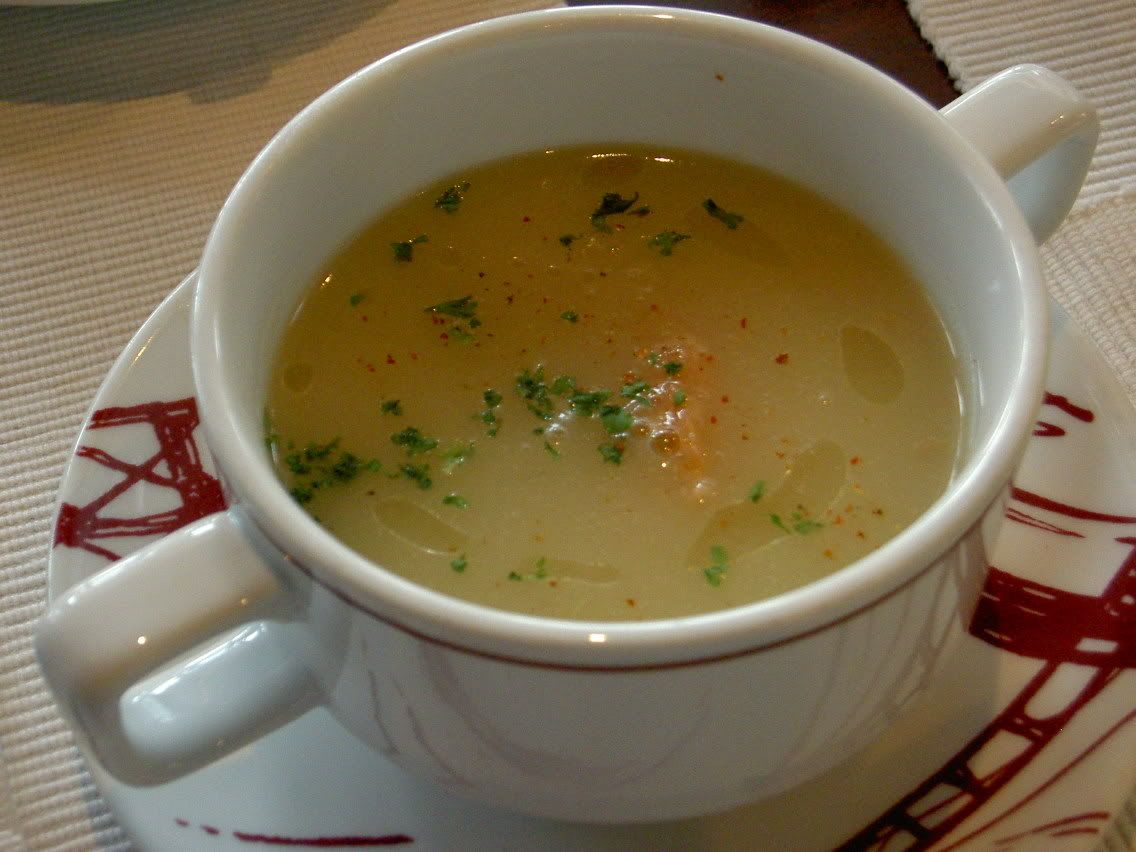 Main Course: Oragnello
Roulade of lamb stuffed with mushrooms, served on (minty) carrot puree and fresh mint. Phak Hoe, Suzanne and I had this. Valerie wanted it too, but she's allergic to mint.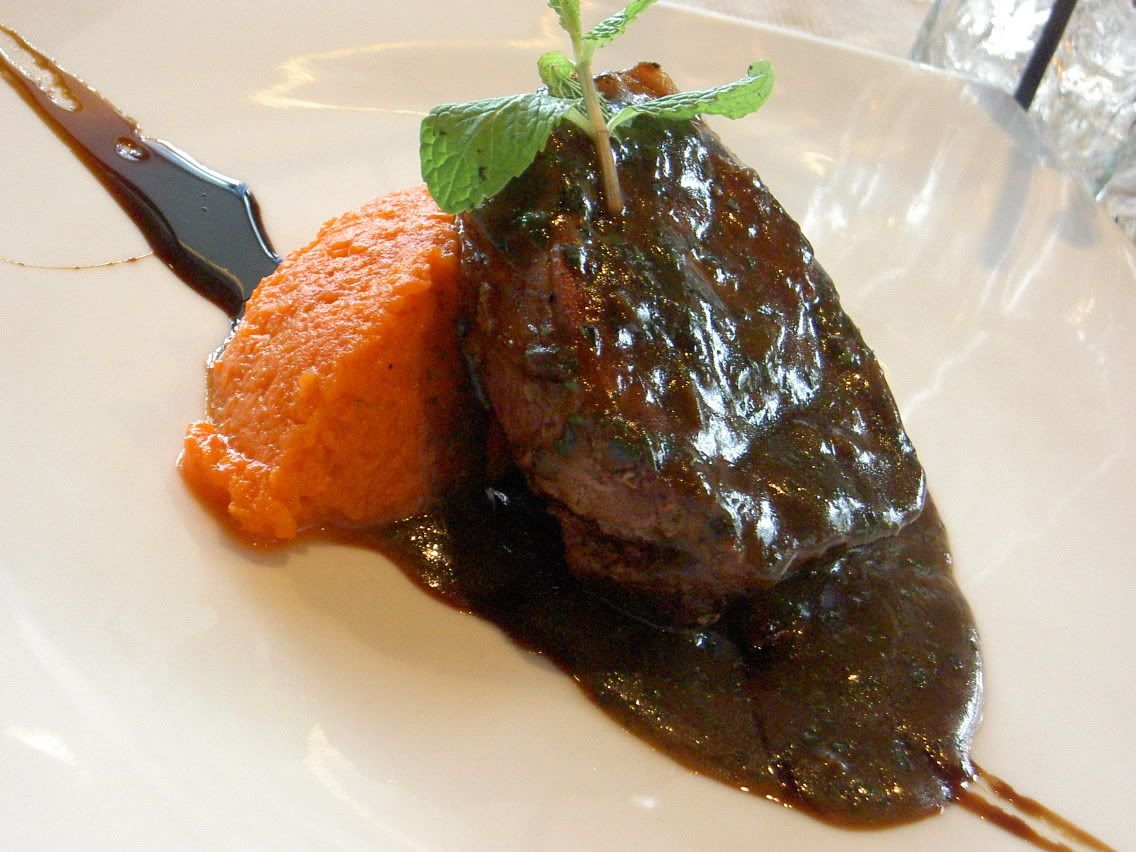 Main Course: Pollo alla Moda
Stuffed supreme chicken with cheese, olive mashed potatoes, grilled eggplant and pesto sauce. Denise and Valerie had this.
(There was one more choice for main course, which none of us opted for:
Pesce Mediterraneo
, which was crusted fish fillet with basil with paella rice, spring vegetables and capsicum sauce.)
Dessert: Cannelloni Sicilian
Sicilian cannoli (some kind of crepe) filled with ricotta cheese custard and dried fruits. The filling was actually supposed to be almond and vanilla ice cream. But it was really good, and, garnished with strawberries, dragon fruit, and berry and kiwi sauce, who could complain?
The five of us outside the restaurant.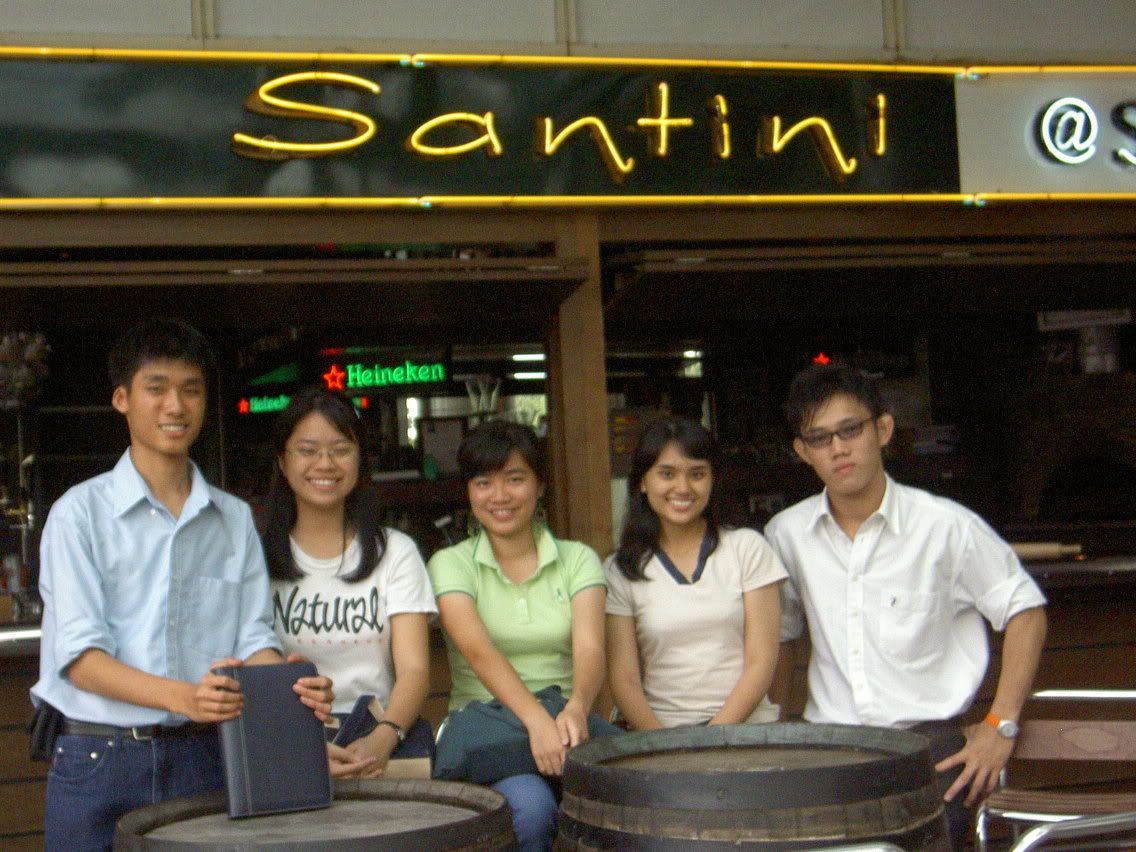 [this paragraph entered at 8.20 p.m.]
We joked about Phak Hoe's incredible appetite. There was talk about a three-metre-sausage-eating challenge (Emmanuel, Denise's brother, finished it in 50 minutes of the 60 allowed) and his two-minute carbonara-eating feat. On the subject of Phak Hoe reviewing food, it is almost certain that a restaurant whose appetizer could fill him, would instantly get an A+. In his words, "That's what I call a restaurant!"
At RM 28 each, lunch was pretty reasonable, considering the fact that we're students. Only the juices were rather expensive at RM 8 each. But then again, when do student chairmen ever treat their secretaries to lunch?
Suzanne, you've been doing a wonderful job. Keep it up! And do remind me, if ever I write a novel or short story about a secretary, to title it 'Ah, Suzanne!'