Since Phase 2 of the Great God Experiment began, many things have happened, as my recent entries surely testify. From calm to conflict, back to calm again... and more conflict. Like a never-ending cycle. But on the whole, there have been more joys than disappointments, and I thank God for that.
Celebrating the birthdays of three May babies (Ming, Soo Tian and Li-Shia) was certainly one of the highlights of the past two weeks. And tomorrow is Li-Shia's mother's birthday... so here's wishing Mrs Chan a Happy Birthday in advance!
It's been a good time, musically speaking. I memorised the piano score of 'Close to You' by The Carpenters within 30 minutes, the night before the Drama Prelims; I think I was trying to outdo myself, as I am usually terrible when it comes to this sort of memory.
Somehow it seems that the lyrics of Elton John's songs are easier to input than Mathematics...
I very much enjoyed the three concerts I attended at the Dewan Filharmonik Petronas: the Elegance Series concert on 7 May, the
sarod
one on the 8th, and last night's stunning performance of Shostakovich's 11th Symphony, Ravel's 'Piano Concerto for Left Hand', and Vaughan Williams' brilliantly atmospheric 'Fantasia on a Theme by Thomas Tallis.'
Paul Mann (below) conducted the Elegance concert and last night's.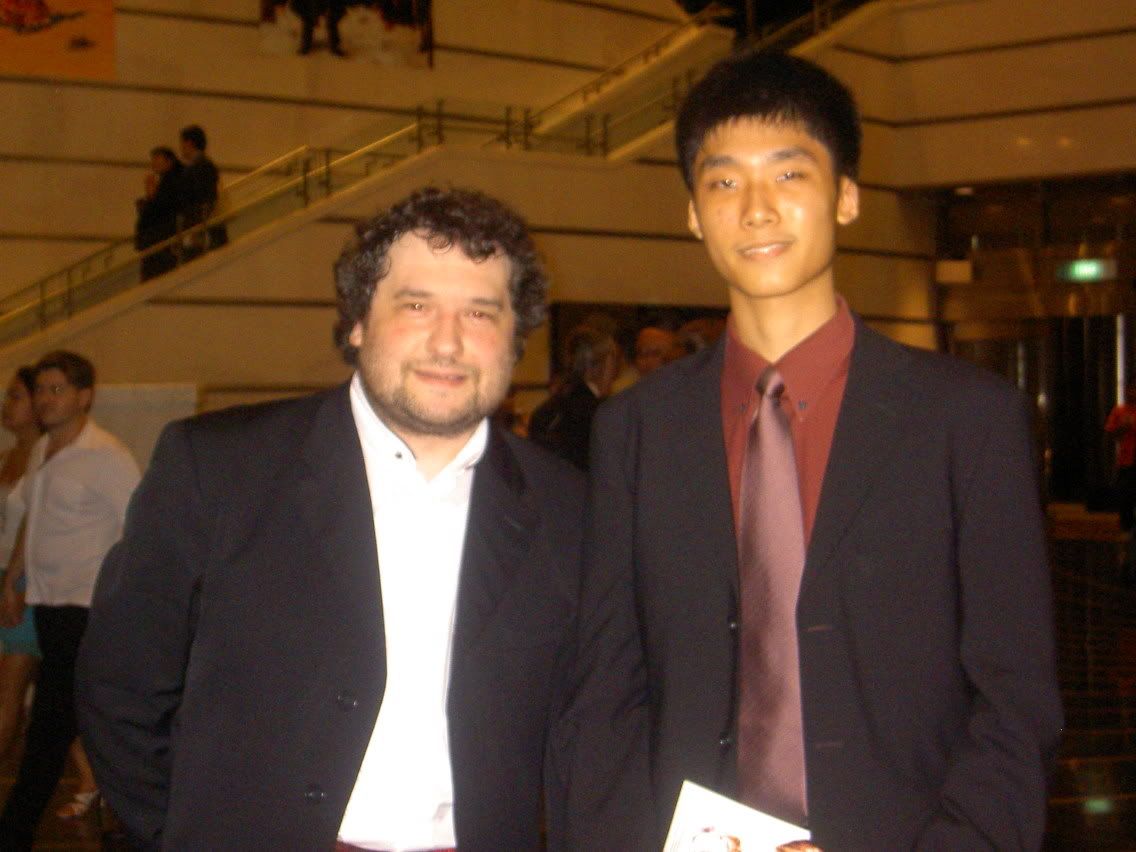 The rat dissection on 5 May was an enjoyable experience, and I actually kept part of the skin after that. I might, however, discard it as it wasn't very well-preserved.
In the first week of May, Li-Shia and I exchanged handkerchiefs... well, scents actually. I wanted her to spray her perfume on my handkerchief, and she wanted hers washed with my fabric softener. I returned her hanky on the day of the Drama Finals, and turned it into a bandanna. (There was also some drama with one of her contact lenses early that morning).
At the National Museum, where the competition was held, Li-Shia spotted a train numbered '531'. She simply
had
to read it backwards, spelling out her birthday (13 May)... ;-)
Matthew SMS-ed me on Friday night. Christie fell off his bicycle, got cut above his lip and broke his nose. Underwent operation yesterday morning and is currently in stitches (NO lame pun there, just in case any smart alec is wondering).
Anyway. It's about time for the Great God Experiment, Phase 3. I failed to achieve what I hoped for in Phase 2; there were already so many setbacks in the first few days. Whatever the next few weeks may hold, I am just praying for God's grace to see me through and keep me safe. Exams are starting, and I doubt much will happen. Nonetheless, I'm not taking anything for granted.
Pastor Linda preached this morning from Numbers 13 and 14 (the spying of Canaan). It was a message I needed to hear. She summarised those two chapters into a story on 'Grapes, Giants, Grasshoppers and God.' The grapes represent blessings, while the giants represent problems in the way. And these problems are the things we cannot face alone; sometimes,
we
are the problem. Often, we may feel like mere grasshoppers, but it is worse still when we influence others (as the ten spies did) into thinking
they
are grasshoppers.
But the ten spies forgot one factor: God. Joshua and Caleb had God-focus. And the moment Pastor Linda said those words, I immediately thought of the lines from Jeremiah 32:17;
"Ah Lord GOD! Behold, thou hast made the heaven and the earth by thy great power and stretched out arm, and there is nothing too hard for thee."
Speaking of God-focus, I think Eliot was right when he wrote in 'Little Gidding';
"...You are not here to verify,
Instruct yourself, or inform curiosity
Or carry report. You are here to kneel
Where prayer has been valid..."
Is anything too difficult for God? No. Not the Giants of Canaan nor the giant boulders of life. You are the Potter, I am the clay. Mould me and make me, O Lord... this is what I pray.